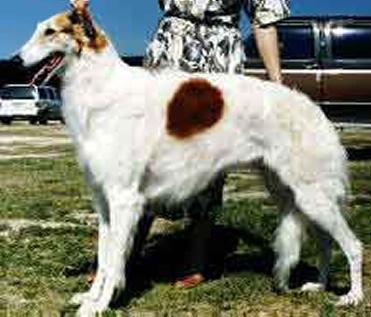 Ch. Rabrega Lady Peach, JC, LCM, CD, CGC

BCOA Register of Merit, BCOA Hall of Fame
October 5, 1991 - March 21, 2007

"Peach" was my first show dog and my third Borzoi. She was a wonderful companion and a challenge to show and train with her silly antics.
Linda Mazor became my first mentor in Borzoi in 1979 when she handed a show lead to me, a mutt 1-dog owner coming to look at the dog show. I was an unsuspecting ringside spectator and she needed someone to hold one dog while she showed another. As I stared down at these immense dogs on the ends of skinny show leads, I was immediately smitten. Linda introduced me to the show ring, coursing, and basic Borzoi husbandry. She started my addiction and she remains a very dear friend.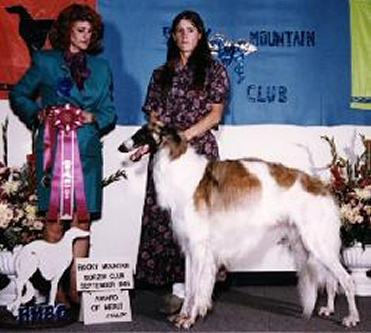 Ch Chataqua's Desert Raider of Kyrov

August 26, 1992 - March 27, 2006

When I first met Desert Raider at the Lubbock shows when he was 13 months old, he was instantly mine. He introduced me to Sara Whittington of Chataqua Borzoi, and he taught me how to show helicopters. He loved showing and won his large and competitive 7-10 veterans sweeps and regular classes at BCOA Nationals in Portland, Oregon. He is behind most of the dogs at Del Sol.
Contact Susan Van De Water for more information.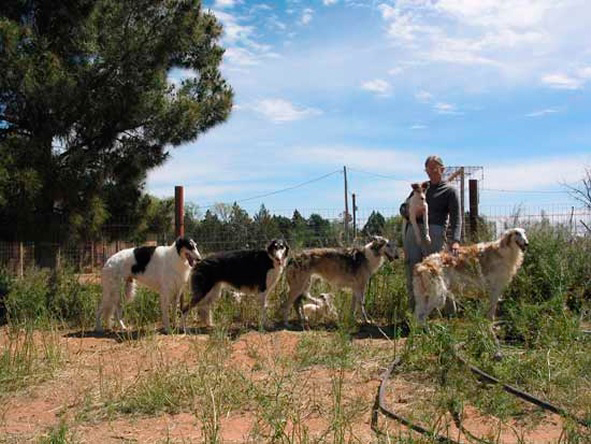 Five Generations of Borzoi at Del Sol

l-r
Ch Del Sol Lord of the Dance JC SC LCM (age 2,)
Ch Del Sol Belle Starr JC LCM GRC (age 5,)
Del Sol Algol JC SCLCM2 GRC CD CGC (age 10,)
me (age undetermined) with a Danceman daughter (age 3 months,)
and Ch Chataqua's Desert Raider of Kyrov (age 12 1/2)

Susan Van de Water, MD, PhD
PO Box 4766
Midland, Texas 79704
(432) 570-0373
borzoidelsol@yahoo.com